AF4K PRODUCT REVIEWS
AF4K CRYSTALS and other Products and Services"
The following are reviews from customer letters and e-mails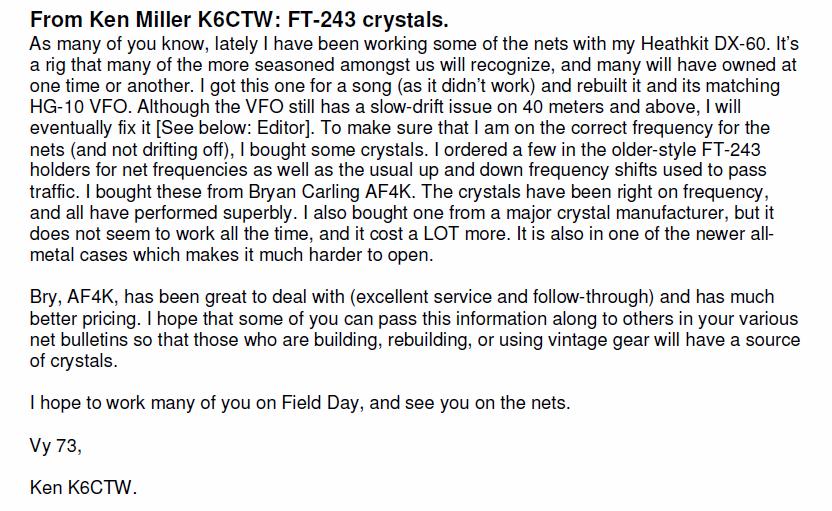 Bry Carling has them (14.1 MHz crystals) at af4k.com. I recently bought another rock from him and was thoroughly satisfied.
Chip KM4SJN

Hey Bry, Your 2 crystals for the Drake 2-B did the trick! Working fine once again. Thanks for your super crystal service!
Bernie in ND
WD0GMD

The 28.9-29.1 crystal arrived and works well in my 75S-1.  I'm using it to put the receiver on 10 AM.  Now all I need is some propagation!
Tnx & 73 Ray W2RS

Thank you for your very fast service! They all play. Anyone who asks about crystals I'll direct to you.
73 - Norm, NZ5L

The crystals arrived this morning in good order.  
For information: I plugged a pair into a BC-611 and checked transmit frequency for the 3870 crystals at 38700 with the Radio Shack pocket frequency counter.  Receive crystal also worked around 3870, but the receiver is quite broad pending alignment. 
The oscillator is a Pierce and you could calculate the load capacitance given by:  http://www.abracon.com/Support/facn_abracon_jul2011.pdf  but they are essentially right on as manufactured for this application.  Original crystals are usually within 300 Hz. 
Thanks for thinking of us West Coast AMI members on 3870.  Your crystals are perfect for this (low power) application.
Cliff, WB6BIH

Thanks, Bry - I don't want to be caught without crystals when conditions are good!
The ones you built for 3870, 3875 and 3880 are dead-on and run fine in my Globe Scout 680A. Someone commented "you're off-frequency" the other day. Turned out their VFO needed tweaking........ been complaining about my being off-frequency for months, hihi! Cain't beat a modern rock!
Treat them right and they'll treat you right. The trick, if you gotta call it that, is being gentle to them. Don't be a hot-rodder. The Oscillator's job is to oscillate. Use the Buffer and PA stages for what they were intended: AMPLIFICATION.
73 DE JIM K6FWT

I would check with Bry Carling, AF4K. He sells lots of crystals, and would be the first guy I would check with, for them, if needed. I am sure his email is listed in the usual locations. He is honest, fair, and sells a good product, at a fair price. 
I have done 2 or 3 transactions with him, and he has always been a stand-up guy.
73 de W3RXO/W6 - Dan

Brian Got my xtals in the mail today. Great packing job. They are A number one right on the money. Definitely a good investment for my Knight T- 60. I'm having a ball on AM and low power cw on 80 and 40 meters. Now I'm all set for SKN on Saturday.
Thanks and Happy New Year -
Jerry WB0AAC

Hi Brian
Just wanted to let you know the crystals arrived yesterday and I am really pleased with them. Also wanted to comment on how fast and smooth the ordering process was online. I will be ordering again.
Thanks and 73
Charles Kaeff, WA4HCC, Covington, KY

"Dear Mr. Carling, I recently received the three crystals I ordered from you and was very
pleased with them. Here is my order for two more that I need from the list
on your website. With the increased interest in vintage equipment, I think
you are providing a valuable service to the amateur radio community."
- Larry Hejduk, N5JDW

Chris Kepus, W7JPG writes:
Bry,
Just returned from a trip and your shipment was waiting for me.  I'm very pleased with the meter and switch.  Thanks for the very good packing.
Chris

Hi again Bry,
Just wanted to let you know that I tested the tubes and they all made it through the gorillas that were in charge is getting it to me.
The 6146W's were very high on the meter and so close to each other that I would consider them to me a matched pair.
Thanks again!
73... Bob de k2ki

The 3 crystals arrived and tested FB.  Many thanks, Ray W2RS

Bob Blumberg, K4RB/6 writes:
RE: 24.5 MHz crystal for Drake 2B
Crystal received and it plays fine!  Thanks for having it!
Bob

From Geoffrey S. Mendelson, N3OWJ/4X1GM in Israel:
Bry, I received them today. Thank you very much, they are exactly what I am looking for.
Geoff

Chuck Clover, KA9TBG writes:
Brian,
The 23 crystals arrived in Waupun today on Friday. Look very good.
TKS much - Chuck

Hi Bry
I got the (Lafayette) HA600A today. VERY WELL PACKED! I have it on 20M now. In the next
couple of days, I plan on putting it on the bench to clean the controls. Might need
a little aligning, too.
Thanks for the quick turn-around and excellent packing.
73, Rick KD4AFP

Bry - The Drake 20.8 arrived today - very, very quick. Already installed and working fine.
73 & HNY - Vic, G4JSS

Hi Brian,
Just wanted to let you know the crystals arrived yesterday and I am really pleased with them. Also wanted to comment on how fast and smooth the ordering process was online. I will be ordering again. Thanks and 73 - Charles Kaeff, WA4HCC, Covington, KY.

"Thanks Brian,
The xtals arrived in fine shape! Also, thanks for
the extra 3700 kc! If you tell me how to leave
feedback for you, I will do so.
73, Joe-WA9LAE"



All of my xmtrs use (your) FT-243 crystals...

 I now have enough QSL cards for my first DXCC award. I'm now
working on WAS QRP using the xtals and my two QRP xmtrs. One is a single
6AQ5 tube with about 2 watts output on 80 & 40 meters. This is a 'clone'
of my first Novice xmtr back in 1957. I used a Navy BC-455 40 meter rcvr
with it. That was my first Novice station in 1957..hi hi The other is a
nice restored HW-8 for 80/40/20 & 15 meters with about 2 watts output as
well. The other restored pair

I just worked a Japanese station on 40 meters CW on about 7010 early in
the morning after many many tries calling many Japanese stations that were
calling CQ over several day's and finally 'snagged' one using my HW-8!!
Not bad with 1.5 Watts and a Windom antenna..hi hi 

73
Gil,W7JBJ



I unpacked the radio over the weekend, first chance I've had to do it. I
must say, you did an excellent job of ensuring that the radio would arrive
in flawless condition! Not only did you wrap the radio in plastic, then
bubble wrap and put it into an inner box lined with peanuts, you surrounded
THAT box in peanuts and packed it neatly into an outer box. Terrific!

Then, the radio was much, much nicer than I ever imagined it would be. For
a radio that graced my shack in about 1964--that's 30 years ago--the one I
purchased from you was in very good to excellent condition and made my
heart flutter. Seriously! Everything was exactly as you advertised it to
be, and I was not only NOT disappointed, I was thrilled that it was beyond
my expectations! And quite reasonably priced, too.

Of course, Fedex ground did a fantastic job delivering it on time and in
great shape. Thanks for providing me the tracking number and the email
updates as to its progress from Florida to California. The PayPal payment I
made to you was handled flawlessly and with no errors.

Just wanted to let you know that I appreciate your efforts, and I'll gladly
buy from you again.

Regards,
Paul Reiter, WY7I
Fallbrook, CA


I just wanted to tell you that I got on the air with my Globe Chief 90
this evening. I got this rig about a year ago and it was so covered in
dirt, I almost took a pass on it. I spent days cleaning the chassis,
etc. and finally got it running a week or so ago. Tonight I plugged in
one of your crystals and called CQ and had a QSO in just a few minutes.
I bet that's the first time that radio has been on the air in 40 years.
I had a great chat and I just wanted to say it wouldn't have been
possible without your crystal service.
Thanks for doing what you do! Here's a photo of my transmitter: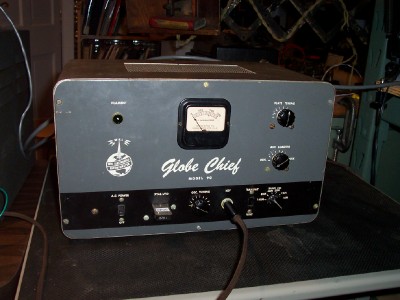 73, Derek Cohn
Morse Telegraph Club - Alton Chapter
Amateur Radio Station - WB0TUA



"Dentron amp got here in fine shape.   Looks good."

Ray, WA7ITZ

= = =

Caps arrived and I've restarted the work on the hv power supply I have 
in mind for the 3-1000 amp I've planned.

- Carl, W3BRX

= = =

I received the 3686 crystal in the mail today and it worked like a charm. 
Thanks.

- Pete, N8PB

= = =

Phone Patch came in great shape -- and sure looks good setting by my 
(in the midst of being restored) Apache and Mohawk !
Thanks again !!

- Mike, K5MGR

= = =

Hi Brian. Cables came today FB. Thanks.

- Hank, KN6DI

= = =

I received the crystal and they look great!  I even took a quick look "under the hood" 
and found great workmanship.  Thanks for the crystals and I'll look forward to using them.
73's Jerry N4KJ

= = =

The 3413B and the ATR 12V vibrators arrived today in fine shape.  
You did a superb/professional job of packing.  It's really nice 
to receive a large package that is obviously so well-packed that 
you know the contents will be in fine shape -- even before you open 
it.  It really is nice to run across folks who take responsibility 
for the safe delivery of what they sell these days.

- Chuck, WB4TEO

= = =

Thought I would hold off on comments until I did business with you a couple
of times....You are consistant with e-mails. The crystals i bought form you
are exactly as you said....The 6t9 based transmitter is perfect for my
ongoing project and the prices are right. Will continue to do business as
finances permit. AF4K is trustworthy.

73   Timothy Adams   KC4QNY

= = =

Hi Brian,
Boy this is getting to be a habit! This is the 3rd crystal order 
I've sent you. I've passed the word on and you may have already
gotten an order from one of the locals. I use these crystals in
my old HT-40 I restored and in a homebrew 5763 QRP transmitter
I built. Kinda brings back the older days like when I first got
my novice ticket over 40 years ago.
Thanks and I am sure we will be doing more business.

73,
Bill, K1FPV

= = =

Crystals arrived all ok today and I am extremely happy with them. Thank you also for your 
patience in dealing with the WU money transfer problems. I am impressed with your service.
Cheers
 
- Rob Firman, ZL1CV

= = =

A big thanks for the beautiful SB600 and SB401 and the tubes, 
arrived in top condition here.

Regards, Carlos ON6CN

= = =

Brian - Just wanted to let you know that my crystals arrived today.
 
They all work just great in my Knight T150.  They all produced a nice CW note and were right on frequency 
according to my TS440 digital readout.
 
I will spread the word to my fellow boat-anchor collectors/restorers/users.
Thanks for the great service!
 
73 - Mike Barrell - WB9DLC

= = =

6m AM, including the popular 8400 kHz ones for 50.4 MHz...
The ones I bought work "Greaaaaaaaat" as Tony the Tiger would say. Mine are in a Johnson 6N2
- Ed Zeranski

= = =

Hi Brian,

Wanted to let you know the crystals for 160 and 75 meters you sent me 
for my BC-610E worked great.  They also worked fine in my second BC-610, 
a F model... 
They are all very near their frequency. - Bill Feldman, N6PY

= = =

Thanks Brian -
Crystals received and playing well in my restored DX20 just like 
the good old days.    73s - Ron, W6OM

= = =

Brian,
Today, I received crystal socket/pins...  
I can enjoy for a long time to build many transmitters.
I'm sure I will...
Thanks again.

Best regards, 73 - Kozo Sawada, Japan

= = =

Hi Brian - I just wanted to let you know that the Astro 103 radio and PSU-6 
power supply arrived safe and sound.  I'm very happy with the radio and 
thank you for selling it to me.  It is going to be a lot of fun.  I hope to 
work you sometime on the air.
Very 73, de Larry/W3RL

= = =

Brian - thanks again for the great FT243 crystals! I'm very pleased with
them. The first thing I did was to plug one into the old Drake 2NT. 
It's so cool to see that old rig come to life again. I was dancing
around here like a little school boy. It's amazing what a little
excitement will do to get the rust out of the old' bones.

Anyhow. I've enclosed $21.00 for two more FT243 crystals. 
Please send one 7030 and one 7035 KC.

THANKS! - Ron Jewett, WA0RJ

= = =

Hi Brian-
I've been using the xtals in my Ranger II and Apache. They all work fine
in both rigs. I may order some others soon. Thanks again Shep K2RQV

= = =

Today, I received my crystal from Brian Carling, AF4K.  Brian has been
offering his crystals on his website:

http://AF4K.COM/crystals.htm

He custom mounted the crystal in a HC-6U holder and did a splendid job. 
It will go into my Collins 20V-3 so I can work AM on 1885 Khz this
Fall/Winter.

Thanks, Brian, for all your efforts.

Dave, W3ST, Publisher of the Collins Journal
Secretary to the Collins Radio Association

= = =

Crystals arrived yesterday, and already put into service. Outstanding job
- thanks very much. I'll keep you in mind in the future.

73 Damien VK3RX

= = =

Thank you for sending me a crystal for getting my 6AG7/6L6 
on the air and making contacts... 
I received the crystal today in the mail... 
It arrived in perfect shape.... 
Thank you...!!!! 
      I plugged it in a little while ago and just
finished working AB1BW in Bridgeport CT. on it.... 
My MOPA is only putting out 5 watts to a dipole at 
30 feet....  It was an hour QSO...!!!! 

 - Claude, WB4WHH in Viriginia

= = =

Brian, Just wanted to say how very pleased I am with the FT-77 Transceiver
I bought from you a month or so back. It works well on SSB AND on AM.
I was especially pleased that it had the AM mod in it.

Many thanks & 73 - John Allen, W4GQT

= = =

The crystals came in today and worked fine in the Valiant.
Thanks - Mark Martindale, N5KJ

= = =

Re: 3885 kHz Crystal Order

Hi Brian,
I got and it works great!
73s - Dean, K9FLO

= = =

Yesterday in the mail was a bubble cushioned envelope with my 
two new real FT-243 7040 Khz crystals from our buddy 
Brian Carling!  

Thanks Brian.  I just ordered them late last week and a few 
days later they are at the door.  

Looking at them, they are your typical brown plastic 
FT-243 case, they look like new cases too, clean, clearly 
labeled.  I'll try 'em out this weekend. I see Brian just 
put out another post for additional frequencies, so I'll 
be ordering some of them too.  

When was the last time you could order FT-243 crystals huh?
Nice job Brian!  

If I'm lucky, maybe 36 years from now I'll still be using 
my Brian Carling crystal :))

73, Scott WA9WFA

= = =

The crystals arrived today they work great.  I can now complete the
project.  Tnx and 73   Gary, WA0EAF

= = =

To plug a crystal into my Johnson Ranger you need fingers 
approximately the size of ET's, plus a flashlight to see what 
you are doing. 
But at least I don't have to do it often, I just stuck 3880 and
3885's in there (from Brian, of course) side by side, and slapped 
the cover back on. It's a novelty to turn on a Ranger and be able 
to talk on freq in about 3 or 4 minutes.

- Jerry Kincade, W5KP

= = =

Thanks for sending the crystal. A pleasant surprise; 

The column featuring a classic rig with crystals will be in 
October 2004 issue of CQ and I will tell folks to check with you 
on crystals. I am still drawing up the circuits and writing 
the article, but it is a rig you will love.
 
Thanks & 73 - Dave, K4TWJ

= = =

Rcvd the capacitors in good shape today (Wednesday)...
Sometimes, Priority Mail really works fast.....

Tnx & 73's - Bill  W6FF 

= = =

Brian; Thanks very much for sending along the manual for the SX-110. 
It will help a bunch and I'm very pleased with the receiver as this was 
the first "real" receiver I ever had back 40 some years ago. 
Best 73,   Dan, K8WOZ

= = =

The HM-11 was waiting at home last night when I got in from work. It is
just super - exactly as you described. - Craig, WA5YSD

= = =

Received the Atlas 210X today in fine condition.
Sitting here as I punch the keys, listening to 80 meters, and 
it seems just fine. I will keep checking your website.
73, Rick KB3EPJ 

= = =

Brian, Received the  SB-600 spkr and the Select-o-Ject today. Very well
packed. Another satisfied customer.   I'll keep an eye on your web site.
73, Bob McLeod   KA1DFO

= = =

The BC-779 arrived today, undamaged.  If I get a restoration web 
page up, I will send you a link. Thank You - Jim Lewis

= = =

Just wanted to let you know the AR-88 manual arrived today in fine 
shape. Thanks again! - Gary Carter - WA4IAM

= = =

I got the mic ,and i would like to thank you sir - 
mic is in good shaped and packed..fine business
with you bryan ..73s  - WA6ABE

= = =

I GOT THE SWITCHES AND THEY ARE JUST WHAT I NEEDED.
THANKS AND HAVE A GREAT DAY..PAUL-NW8C

= = =

The speaker looks real nice and the compressor is just what the 
doctor ordered. Thanks for everything.
Good DX & 73's,
Ron W7MRR/6

= = =

(Swan 350D) rig got here F.B. Rig came as advertized, very good shape, 
a little TLC and it will be like new! Thank You so much. 
This whole transaction was painless, as they should be. 
I'm pretty much house-bound here, so I definitely appreciate you 
taking my check. Thank you very much Brian, and
I hope we can do buisiness again. Best "73"        Ron       ka7qgd

= = =

The Cable arrived yesterday..  Looks great.
Thanks & 73,   Les,  WØOJH

= = =

I recieved my boards today, I couldnt have asked for a better deal!
Everything is perfect!
Thanks much!

Ed (Edtronics)

= = =

The 25 sockets showed up today. Condition was as
advertised. Thank you very much.  Mike K6YOQ

= = =

Hi Brian. I got my grid dip meter today. It is truly in pristine
condition. I played a little with it and checked my short wave 
stations on my Transoceanic. Thanks a million. 
Great doing business with you. Ed

= = =

Brian - the resistors arrived FB.  Gud doing biz wid u agn. 
73 - Darwin, K5DOA

= = =

"Brian, I really enjoy the Tempo One I bought from you last year. 
It is exactly what you said it was, and after a year of 
using it to monitor the HF frequencies, I must tell you 
that I am very pleased with it, and am looking forward 
to getting my General Ticket so I can use it fully. 
During the recent hurricane, it was especially helpful in 
monitoring the situation. Thanks Brian." - Ron KC8VAE	

= = =

"I got the caps installed and working fine. Thanks!" - Carlos, KF4RRN

= = =

"The S-200 arrived in good condition and seems to work.
Thanks, 73" - John, K7VGF

= = =

"Tks Bry - the coils showed up in good shape. Nice assortment." - Chuck, KB4NEW

= = =

"Hi Brian. I got my grid dip meter today. It is truly in pristine 
condition. I played a little with it and checked my short wave 
stations on my Transoceanic. Thanks a million.
Great doing business with you." - Ed Barile

= = =

"Cap arrived today FB - Thanks Brian" - Dale, W4OP

= = =

"Hey Brian,
The tubes arrived yesterday in fine shape.  Thanks so much.  It's good 
knowing I'll have spares ready when and if the ST-70's go south someday. 
Thanks again es 73" - Don, N9OO

= = =

"Brian, the receiver arrived in good shape today. I had to pinch myself - 
a clean rig with mounting rack and mating connectors - not used to that.
Thanks!" - Don Hendrickson WA7JQK

= = =

"Hello Brian - Receiver arrived safe and sound.  I have refinished cabinet.
Built PS, tested all tubes and aligned.  Great sounding radio.  
Hot on 10 meters too.  
Only need is to have a dial cover made.  
Going to use tonight with my A-54 on the West Coast AMI Net.
Thanks for the help!  73s" - George, WB6YEC 

= = =

"I received the HP-23A today.  You did a fine job of packing.  It came
through just fine." - J.E.

= = =

"Got the Meter today, was in excellent Condition. I was very surprised to
find that it was shielded. Dont see to many of those anymore. Anyway, very
satisfied  with the product and thank You again for Your trouble.
Respectfully; Hank Burgin W5APA"

= = =

"The SX-25 arrived today.  Your nice double box packing job kept it
intact. Thanks and 73" - John, KU4AF

= = =

"Thunderbolt arrived safely--what a load!!" - Jay, KF5HC

= = =

"Just want to say thank you.... I am very happy with the cap
tester" - George KC7HKP

= = =

"Thank you sir,
The HQ-110 arrived in excellent condition, appreciate your courtesy and 
professionalism. I am looking for a crystal controlled 80/40 CW
transmitter if you should come across one. 
(I refuse to pay 200 bucks for an old Ameco AC-1 like some idiot on eBay
!!! and it was totally butchered and beat up... unbelievable!!!)
What have you got in stock?
Best 73 and respectfully submitted" - H.W.

= = =

"I put that thing on a variac last night and fired it up sloooowly, and 
danged if it doesn't work, 30+ watts out all channels,
with great audio from one of my D-104s. Amazing how an old 1971 
piece of gear can hang in there like that. 
They just don't build 'em like they used to."
- Jerry, W5KP

= = =

"I received the 20A, and it looks nice. Another project for a long
winter that we never seem to have... Thanks!" - Jim, WD5JKO

= = =

"Re: 1230V Plate Transformer -
GOT IT it is just what the doctor ordered!! Thanks ever so much." -  John Burns

= = =

"Brian the S-107 came in this afternoon and I am very well pleased .It
has been very well taken care of over the years. This evening I will
just set & do some swl . Take care and many thanks." - M.

= = =

"Dear Brian: Today I have received in very nice condition the 
Drake 2-A receiver. 
Many thanks for suppling to me this new piece for my modest 
collection.
Best regards." - J.M.

= = =

"I received the Swan 270 today. On preliminary checks, all seems to be
well.  After a slow warmup, it's receiving and transmitting power...
I put it on the air and worked stations on 40 and 20 meters.
For its age, the radio has held up well...
Thanks for getting it to me so quickly."  -  W.J.


To reach AF4K:
73 from Brian ((( Amateur Radio G3XLQ / AF4K )))

Latest list always updated at:
Main Page
You are visiting the website at: http://www.af4k.com