TUBES FOR SALE
BACK TO AF4K HOME PAGE
(Add shipping costs to all prices unless stated)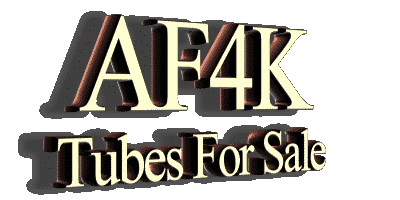 New items added here frequently! Check often!

CUSTOMER REVIEWS and COMMENTS - Read what others have said.
ALL SALES ARE FINAL. We DO NOT OFFER REFUNDS.
Click here for Tube Sockets
WANTED TO BUY!! OCTAL SOCKETS - new, clean, chassis mount types with removable pins.

Heathkit Monitor Scope Tube
SYLVANIA 3BP1 CRT scope tube!! 3" Electrostatic CRT. Filament tested good, LOOKS GOOD, full dynamic test. Looks NEW, but poor box was discarded. 14 pin diheptal base, excellent working condition. As used in all Heathkit small scopes such as the HO10, HO14 etc. etc. Our price below includes the cylindrical metal shield.
New price is $95.00 without the shield (extra $20-25.)
One only available for $35.00 plus shipping

807 Tubes

5894 Amperex VHF Tube

Box of Tubes

6883B RCA Tube
This is the 12V Filament version of 6146. New in Box.
Available for $6.00 plus shipping.

New tube sockets from 4 to 12 pins $2.00 each - I have a number of these available.


NIB = New In Box
UIB = Used in Box
NNB = New No Box
No warranty on tubes. No refunds. No returns or exchanges.
Add shipping cost to all prices.
PAYMENTS VIA PAYPAL GLADLY ACCEPTED!

Click the logo to sign up now.
To buy any item(s):
73 from Brian ((( Amateur Radio G3XLQ / AF4K )))

Latest list always updated at:
Main Page
See main page for special terms of sales to Canada.
SEARCH THIS SITE

Click 'BACK' to return here.
You are visiting the website at: http://www.af4k.com